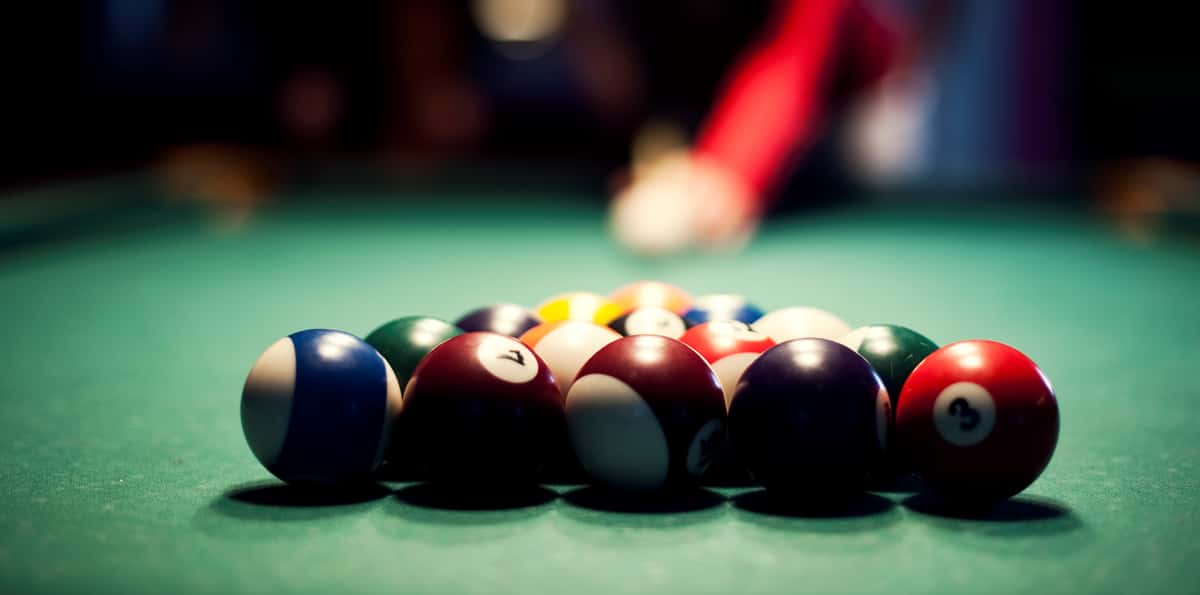 Pool
Austin, TX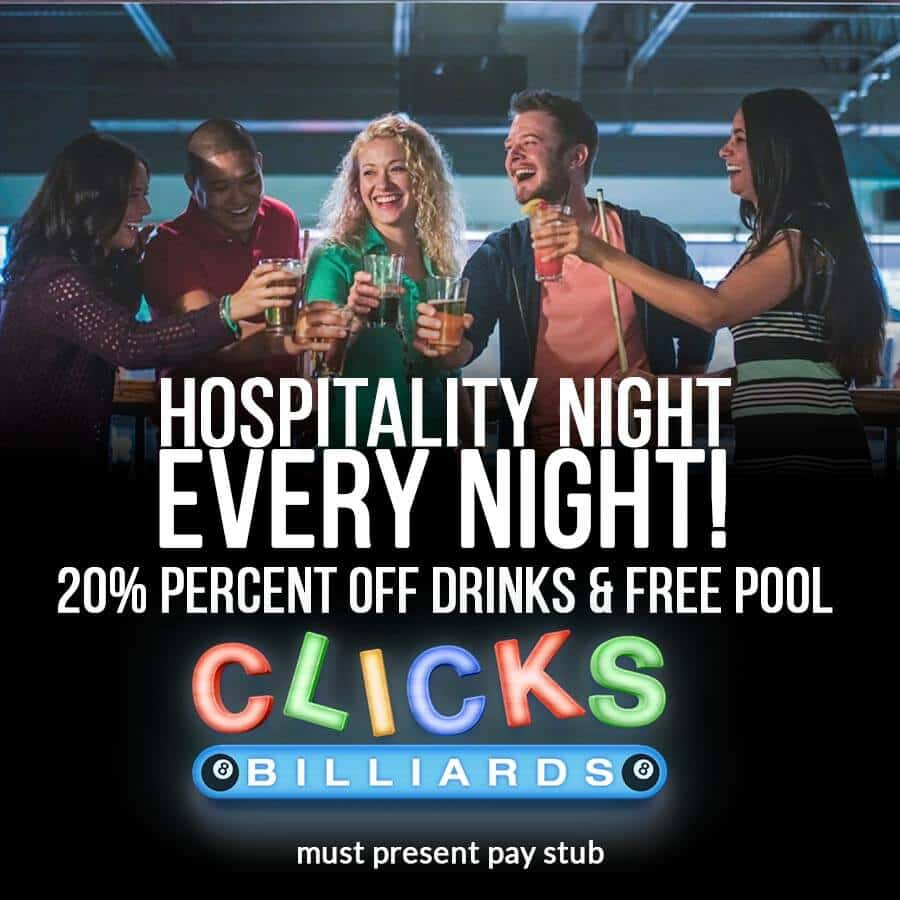 HOSPITALITY NIGHT EVERY NIGHT!
20% off drinks & free pool! 
Starting at 8 pm.
CLICKS Austin League Information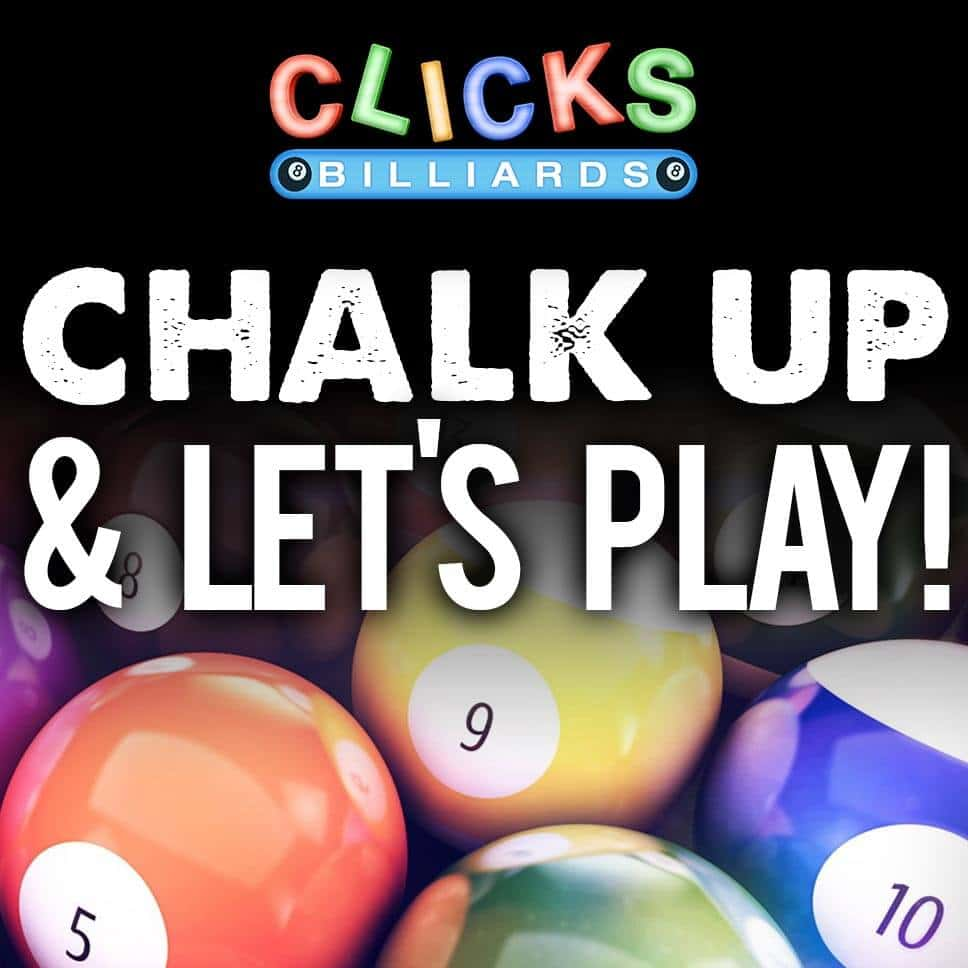 APA & BCA POOL LEAGUE TOURNAMENTS
APA LEAGUE
Tuesday • Wednesday • Thursday 7:30 pm - Close
Sunday 2:30 pm - Close

BCA LEAGUE
Wednesday 7:30 pm - Close

Bring a team or Join a team!
APA and BCA League Privileges
This is a standardized letter that will be going to all APA and BCA League members that play at Clicks Billiards. This letter will outline privileges given to league members on behalf of Clicks. Outlined privileges are subject to change at the discretion of Clicks Billiards at any time. These outlined privileges are standardized for all Clicks Billiards locations and are designed to help the leagues continue to grow, and give the members the best benefits that we can provide.

TRAVELING LEAGUES
Traveling leagues will be given one (1) match table and one (1) practice table per match. Practice table may not be provided if all other tables are issued and there is a waitlist. Practice table is provided for our team and the opposing team only. On traveling league nights, league members are free to exercise their free billiard time privileges provided that there is not a waitlist for a table. At any time a waitlist is necessary, league members will be given the option to surrender the table, or keep the table at the current going rate that clicks is charging.

LEAGUE NIGHTS
League members can utilize 2 practice tables provided on any night your APA or BCA team is playing. These issued practice tables are to be shared by all teams for practice, and will be provided until the end of all league matches. Practice tables are provided as long as tables are available, and may be revoked in the case of a table waitlist.

LEAGUE FREE POOL PRIVILEGES
League members of APA & BCA will be given free pool time open until close,(11 am-2 am) seven days a week, provided that the location is not currently on a waitlist. In the event all tables are issued, league members will be asked if they would like to surrender the table, or continue to play at the current going rate. League Members must inform staff of any non-league members playing on their table with them, and that person will be charged accordingly. Not informing staff of a non-league member playing on the table will make both subject to paying full price at the going rate. Free Pool privileges are granted by paying $10 Green Fee at beginning of every session. Green fees will help us maintain the quality tables members can expect when playing at Clicks Billiards. Any time a member has not paid their dues to APA or BCA, free pool privileges may be revoked.

These guidelines are to help standardize league rules through all clicks locations and ensure our league members receive the best benefits we can provide. As always, we appreciate your patronage, have a great session!!